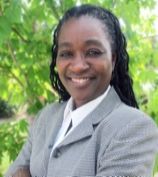 Maritza Collins, Executive Assistant
"I am impressed by the number of new clients who come to MCG through word of mouth and the number of clients on retainer year after year.  That means MCG is making an impact that continues to be positive, and that current clients believe in our ability to help other enterprises reach their goals."
Maritza is an administrative professional with over 20 years of experience supporting senior-level management and planning business events. She works with MCG staff to ensure that all project schedules run smoothly.
Before joining MCG, Maritza was the public participation coordinator for a consulting firm specializing in public transportation. She has also served as the client coordinator for a real estate company, events manager for a technology company and executive assistant to the CEO of a leading business education company. These positions exposed her to a variety of environments, and prepared her to work on behalf of MCG's diverse client base.
Maritza enjoys technology. Her knowledge of the latest office tools enhances MCG's ability to provide clients with cutting-edge solutions.
Beyond the Bio
Maritza is a member of the hospitality ministry at her church where she helps create a variety of events. During her free time, Maritza reads mysteries and spending time with her family and friends. She also participates in a variety of activities with her daughter, including Girl Scouts, drama, dance and piano recitals.