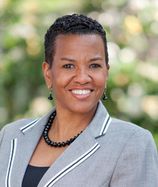 Michelle Matthews, President
"I love that MCG has clients who can tell the story of a project we saw them through that changed the trajectory of their business or even themselves. That's what our work is all about: inspiring memorable, meaningful change that stands the test of time."
Michelle is a trusted advisor with more than 25 years of experience in organizational development, change management and consulting. She is a recognized expert when it comes to developing strategies to improve business processes, maximize human capital and increase revenues.
Michelle's guidance has enabled nonprofit organizations, such as Families First, the Task Force for Global Health, and Communities in Schools of Atlanta; educational institutions, such as Spelman College and Atlanta Public Schools; and numerous Fortune 500 companies, such as Delta Air Lines, Kimberly Clark and Georgia Pacific to implement strategic change and improve individual, team and organizational performance.
Before founding MCG more than a decade ago, Michelle was a senior manager for IBM, KPMG Consulting and Accenture. In these positions, Michelle effectively led teams through engagements requiring strategic planning, group facilitation, organizational change management, executive coaching and business process redesign.
Michelle brings passion, experience and integrity to her work. These traits are the foundation of her ability to quickly grasp the internal and external dynamics of an organization or institution, and successfully facilitate strategic planning retreats and team-building sessions. Believing that change is always possible, Michelle is deeply committed to collaborating with organizations to create customized strategies that are easy to understand and designed to put clients on the path to achieving results that are both remarkable and measurable.
Michelle is a member of the American Society for Training and Development (ASTD), and the Atlanta Chapter of the Association for Strategic Planning. She is also a board member for the Quality Care for Children.
An authority on adapting to changing environments, Michelle has been quoted in The Wall Street Journal, Black Enterprise and Smart Money. She has also appeared as a CNN guest on the program "Your Money," where she shared her experiences in leadership and change. In 2011, Michelle received the Atlanta Business League's Business Achievement Award, and she was featured in the 2012 November/December issue of Minority Business Entrepreneur magazine.
Michelle graduated summa cum laude from Spelman College, with an economics degree.
Beyond the Bio
Michelle gives to the community as a mentor for Pathbuilders, a development program for female professionals. She has also served as a volunteer with Big Brothers/ Big Sisters, the Atlanta Food Bank and Habitat for Humanity.
When she's not working on behalf of an MCG client, Michelle spends time with family and friends, attends jazz concerts, reads novels on her Kindle and plays with her Maltese, Jazzy.
Devoted to fitness, health and inner strength, Michelle runs, walks and circuit trains. She also attends weekly yoga classes as part of her strategy to reach her personal goal of developing a consistent yoga practice within the next six months.